Saturday & Sunday
June 27 & 28, 2020
11AM until 5PM
The Amazing Captain Barnacle Variety Show Returns!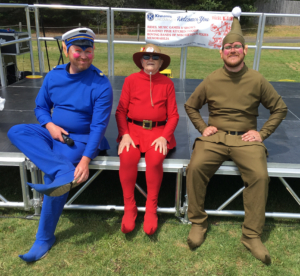 When one is good a whole lot is best, right? We're finalizing a deal on a whole village of bounce houses that'll let you bounce, slide, jump and explore.
Sack races, ring toss, fun and games the old-fashioned way. More games, more fun.
Watch this space.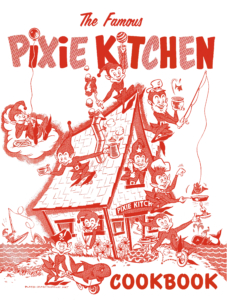 Pixie Kitchen is the place for Pixie Kitchen food. The Lincoln City Culinary Center did amazing detective work tracking down original Pixie Kitchen recipes (which are published in the Pixie Kitchen Cookbook we have for sale at Pixiefest and also at the new Lincoln City Kiwanis online store.)
Keep an eye on this space for updates on great food.
As Jerry Parks used to say, no one leaves hungry.
In 1948, a tiny restaurant called called Pixie Kitchen® opened its doors in Wecoma Beach, one of the five towns that would combine to become Lincoln City, Oregon. It was purchased in 1952 by Jerry and Lu Parks, who transformed it into a children's wonderland. Pixie Kitchen was something never seen before, with animatronics, fun house mirrors and all-you-can-eat family meals. It was a must-see attraction for over 30 years and remains a treasured part of childhood for thousands of people. We're happy to bring it back every year so the magic can be relived and shared.
The ongoing success of Pixie Kitchen, with its legions of pixie cooks, fishermen, railroad engineers, sea creatures, balloonists, mermaids and sea captains inspired the creation of Pixielandsm, a theme park just north of Lincoln City. Pixieland opened its gates in 1969 and enjoyed its last season just seven years later. In the meantime, guests rode Little Toot the steam engine, took thrilling rides on the log flume and enjoyed a multitude of melodramas in the Opera House.
Preservation & Recreation
Pixiefest is all about preserving and sharing memories of Pixie Kitchen and Pixieland. If you were fortunate enough to experience either, please consider sharing your stories with us. You can contribute to the Pixie Memories Oral History Project via the Pixiefest page on Facebook. Upload a selfie video telling us about your memories. These are being collected and archived by the North Lincoln County Historical Museum.
Thank You to Our Sponsors!
Created, owned and operated by
Kiwanis Club of Lincoln City
The Kiwanis Club of Lincoln City is dedicated to the children of our community. We created Pixiefest to celebrate the magic of childhood and to bring that magic to the children of Lincoln City. Your admission to Pixiefest will support Backpacks for Kids, Lincoln City Food Pantry, Stuff A Bus, Family Promise, Head Start, Lincoln City Community Days, Youth Sports & College Scholarships, Doernbecher Children's Hospital Cancer Research, Taft Elementary Outdoor Program, K-Club, K-Kids and more…
Some of you may think that the Pixies packed up and left town when Pixie Kitchen® closed its doors. Turns out we have lots and lots of Pixies still here happy to help make Pixiefest happen. Many thanks to the Pixies at Taft high School who graciously offered to host the event. To all of our Pixie sponsors and a host of other Pixies volunteers who make the festival happen.
We Need a Few Good Pixies!
Do you have memories you'd like to share? Want to be one of the Pixies at Pixiefest? Or, better yet, how about becoming a member of Kiwanis, the most dynamic, fun service organization in Lincoln City? Contact us at pixiefest@gmail.com.
Stay with us during Pixiefest and choose from
a wide variety of accommodations in Lincoln City
Get In Touch With Us
Please let us know if you have Pixie Kitchen/Pixieland stories, pictures or memorabilia.
Or just let us know if you want to get updates on our bigger and better Pixiefest next year.